We've got a massive update for you! But first, some backstory:
Writing software is hard. It's especially hard when it's your first project. When we first started making Relight, David had very limited experience doing software development. Relight, even the initial launch, was his first project by about 100x in terms of complexity and features.
Because of this, his goal was to write things quickly and just get something out the door. We wanted to make something that showed everyone our idea in a real and usable way. We didn't want to care too much about how sustainably the majority of that code would be. It was messy by design so that we could get to a usable product and see if people liked it enough to warrant going back through and rewriting things properly—something which, when David started, he didn't even really know how to do.
When we first started the project, development happened very quickly and we were sometimes releasing new features or content a couple times a month, even though David was only able to spend 4–9 hours on it per week. As the messy ball of code got bigger and bigger, it became harder for him to make changes and add things. This was expected. We looked at how the app was being received and we decided it was worth taking the time to rebuild it in a more proper and easier to maintain way.
Then COVID hit. Then forest fires in Colorado hit. Then the need to put in extra hours at work hit. Then we got COVID ourselves. Then David's Dad needed to get heart surgery. All of this significantly delayed development. We thought we'd have things done on this update back in the summer, but here we are in March. Anyway, it doesn't matter now because the update is live!
All of this is to say, there were a great many reasons why the updates slowed over the last year or so. But with this significant rewrite, adding new features and content is going to be significantly easier. 2020 was a sort of deep breath, required to build up what we needed to plunge in and start adding lots of new cool stuff. And we're super excited to get started on it.
Changes in this Version
Often when software companies do rewrites, they push a big update and they're really excited about it, but users aren't so much because they can't see any of the new stuff. It's all just in the code and at best they might notice better performance. It's like getting socks for your birthday. We didn't want to do that to you, so we have thrown in some toys, as well as socks.
New Icons

The icons we were using were licensed for web, but not for use in native apps—which we want to build soon. So Sarah went through and made new icons all over the site! A few of them are above, but if you can spot them all, you get 400 Relight Bucks!*
*Relight bucks are made up.
Content Stays Loaded!

This one is pretty simple. Let's say you open up the lightbulb icon on a bunch of verses and then you open up some commentaries and some cross-references. Now if you refresh the page, or quit and relaunch your browser, or navigate away and then come back to that chapter days later, all the stuff you opened will still be open.
Related Content
This is a feature that David threw in at the last minute while he was waiting for Sarah to QA the site. Honestly, it was reckless and irresponsible. He knows that now. But on the plus side, you get a new feature!
Related content is basically an attempt to show you content that seems highly relevant to what you're currently reading. It's an evolving feature. Currently it looks for things that reference a significant number of the same verses as what you're currently reading. But we plan to add more things like finding similar phrases, a significant number of the same words, and maybe even some clever AI stuff later. It's currently supported for catechisms and confessions, but we're planning to add support for paragraphs in commentaries soon.
Sticky Navigation Bar

It's annoying to have to scroll all the way to the top of the app to navigate somewhere else. So now the navigation bar follows you, like a little helpful butler. Or something. You get the idea.
Home Screen Web App for iOS
iOS lets you add web apps to your home screen like bookmarks. We've added support so that when you do this, the web app will open as its own separate thing from Safari in the task manager. To set this up, go to the Relight homepage, tap the Share icon, and tap Add to Home Screen.
It's not an app yet, but hey, we're making progress.
Omnify as a Service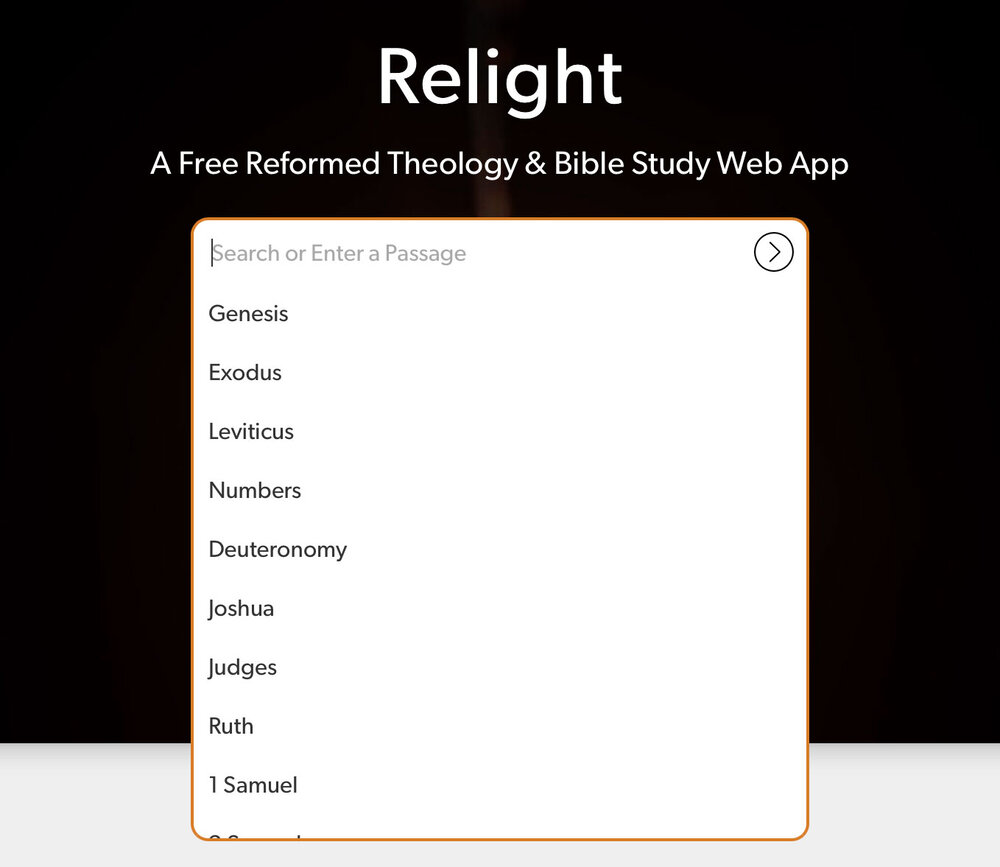 The Omnibar takes whatever you type and tries to figure out where you wanted to go. If you type wcf 25 it takes you to Chapter 25: Of the Church. If you type gn3 16 it takes you to Genesis 3:16. We call the magic it does behind the scenes "omnifying" because making up words is one of the best parts of making an app. Well, now you can omnify things from anywhere!
We've created a sort of API, where if you go to https://relight.app/omnify?q=gn3 you'll go to Genesis 3. Lots of developers will be able to do lots of fancy things with this. David has already started making integrations with iOS Shortcuts and Alfred for macOS. We'll shortly release a tutorial on how to set this up with your favorite browsers and automation tools, so you can open your browser and just type relight gen3 to go straight to Genesis 3 without having to see the pretty candle on our homepage.
Progress Toward Native Apps
A lot of the work David did was work that was necessary toward making our most requested thing: a native app. To make Relight, David has had to learn Javascript, JQuery, VueJS, Nuxt, Python, FastAPI, and Neo4J, Cypher, and probably more things he can't even remember. To make an app for iOS, he'll have to learn (and has already started on learning) Swift and SwiftUI, as well as Xcode. There are more languages and tools involved for Android. This is going to take time, but we are working on it and this update represents some non-trivial progress toward native apps.